ChiropracTIC?

In 1895 D.D. Palmer received the principles, now know as chiropractic, to assist humanity in making a transition. The first experience occurred Sept. 18th 1895 where a deaf man regained his hearing. Dr. Palmer thought he found the cure for deafness, but later realized he tapped into something much greater.
This something greater is the awareness that Life, health and healing come from within. ChiropracTIC is a triunity, a philosophy, art and science based on universal laws. It states that there is a universal intelligence in all matter which continually gives to it all of its properties and actions thus maintaining it in existence.
"The Spirital intelligence controls unintelligent matter through the nervous system. Each and every portion of the body is permeated by the spirit and its means of communication." -D.D. Palmer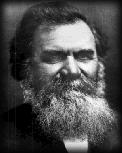 "The Adjusting process enhances the expression of man the spiritual through man the physical." Louis Corleto, D.C.
The wisdom in your body knows exactly what it is doing and expresses itself perfectly, as long as there is no interference.
This is where we come in. Lou Corleto is a chiropracTOR that works with these universal laws to assist your body to function to its greatest potential. Dr. Corleto is a staff member with advanced training in BioGeometric Integration (BGI)-- meningeal and structural integration.
please do your part -view this one mintue video- then live accordingly