Empowerment Series (educational workshops)
Our Services
Our unique service
... with very different results
Through serving thousands of people over the last 23 years it has become very clear that the health of our nation is crashing. Research shows that certain health conditions are reaching epidemic proportions such as:
ADHD
childhood ear infections
chronic fatigue syndrome
fibromyalgia
and many others
Every year millions of dollars are spent to "fight the war on cancer" and heart disease. But no major progress is being made. YOU may have experienced this in your own life, or the lives of those you love.
At Life Expressions we work what is right within you not what is "wrong" with you. What is right within you is your innate wisdom. This inner intelligence is what animates you (and for that matter all living things). It utilizes the neural network (brain, spinal cord, and nerves) to control and coordinate (balance and harmonize) all of the cells tissues, organs and systems of your body and to adapt you to your environment. Any blockage or interference to your innate intelligence causes dis-ease; which is a lack of harmony, balance and manifests as ill health. Health being defined as balance of our physical, mental/emotional, social, and spiritual well-being not merely the absence of disease and infirmities. Our service is focused on locating and removing these blockages, subluxations, with specific spinal adjustments.
We've worked with thousands of people: infants, adolescents, adults and seniors who's lives have been ruined because they have been misled, violated, betrayed, and abandoned by our "modern" health care system. Through the service we provide we've assisted them in regaining their life and propelled them into a better way of living.
artist- alex grey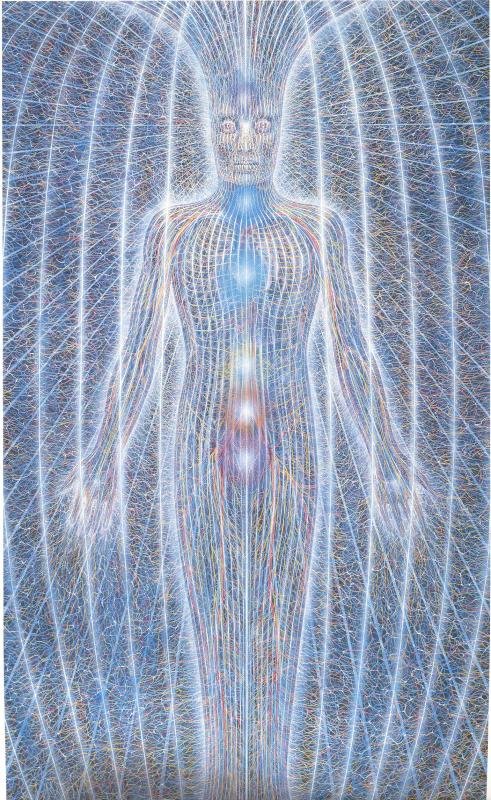 "The Adjusting process enhances the expression of man the spiritual through man the physical." Louis Corleto, D.C.
back to top_______________________________________
We would like to welcome you to our office, and more importantly, CONGRATULATIONS!!! By choosing ChiropracTIC, you have taken the first step towards improving the quality of your life, at the best place possible—Life Expressions.

The services we provide are very unique and we want you to be aware of everything we have to offer you and your family. We have found with experience, those who fully utilize our services heal more quickly than those who do not. Some of our unique services are:

• Specializing in assisting people to reach their full life and health potential by removing subluxations through specific chiropractic adjustments.
• Caring for children of all ages (newborn on up) and their families.
• Offering Life Expressions Programs, affordable financial programs, which creates the ability for you and your entire family to receive the service we provide.
• Life Enhancing Workshops on health and healing are held every Tuesday and are open to all. These workshops are designed to enhance your life experience.
• Access to our lending library filled with books, tapes, and videos (topics ranging from healing to vaccinations—personal achievement to superior relationships).
• A monthly newsletter written and published by our office informing you of all the latest topics on health and healing.
• Dr. Corleto has advanced training in Bio Geometric Integration. Combining this with the Gonstead art form of specific structural adjusting makes for a gentle, profound experience rarely found anywhere in the country.
• For your convenience we are available to you mornings and evenings and our office is well located with easy access.
We ask you to take advantage of all the services we provide. The greater your involvement in your healing process, the greater you will personally benefit and value the service.

If there is anything we can do to make your Journey To Wellness more pleasant, please do not hesitate to let us know. We trust this will be the beginning of a long and rewarding relationship and that you will tell your friends and relatives about ChiropracTIC and our office. We look forward to serving you and your loved ones ChiropracTIC without compromise.
Yours in True Health,
Louis P. Corleto, D.C.
back to top _______________________________________________________________________________________
The Empowerment Series at The Center
"Our Goal is to align your mind and spine at the same time"
"Knowledge is the antidote to fear!"
- Emerson
The playshops are interactive experiences designed to empower you. They are a continuing educational series entitled… "And the rest of the story".
The purpose being to bring a greater level of truth and uderstanding of how our bodies work within natural laws. These Universal principles affect us all - if we are aware of them or not. The more we work with these laws, the easier and more fulfilling our lives become.
The series of playshops cover topics ranging from self help, health/healing to goal setting and vaccinations.
We use the word playshop to more accurately describe what occurs here. They are not classes- to bore you with babble, they are not workshops where you are required to put in work, rather playshops where we interact to share knowledge to better understand the human condition.
Please see community calendar for times and topics, or contact us for more info.